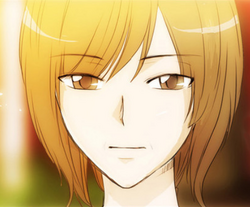 Jiho's mother is a children's story writer. She divorced her husband and left Jiho when he was a child. After that she has never met him once. She is indirectly responsible for Jiho's mysophobia. It is shown in Jiho's flashback that his stepmother used to tell him that his mother never meets him because he is a dirty child.
When Sia emails her again and again, she responses after three days to tell her that she won't meet Jiho. However, Sia tells her about Jiho's sufferings and convinces her that she could help out her son by meeting up. Finally, Jiho's mother decides to meet Jiho. She waits at a cafe where Sia brings Jiho so that mother and son could finally meet again. She requests a private conversation with her son which compels Sia to take her leave. Then she addresses her son, commenting that he has grown so much that she can hardly recognize him. When Jiho says she looks the same as before, she gleefully remarks if she still seems like being in her twenties. After having the laugh to break the silence between them, she expresses her happiness at seeing her son doing so well. At this, Jiho retorts that he hasn't been well at all and confronts her about why she had left him and never visited him again.
Ad blocker interference detected!
Wikia is a free-to-use site that makes money from advertising. We have a modified experience for viewers using ad blockers

Wikia is not accessible if you've made further modifications. Remove the custom ad blocker rule(s) and the page will load as expected.